Free Marketing Review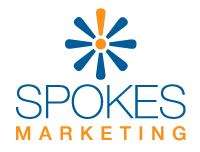 In December, Strategic Factory acquired Spokes Marketing, a local full service ad agency with a focus on digital marketing. Recognized as one of the 20 Best Advertising Agencies in Baltimore, Spokes specializes in working with a select group of industries including professional and home services, auto dealers, retail stores and restaurants. Their expertise encompasses advertising, digital marketing (including SEO and PPC), email marketing, website design and social media services.
The addition of Spokes Marketing has truly made Strategic Factory the one-stop shop for all your marketing and branding needs!
To assist with the review, we'll schedule a quick appointment to come by and pick up samples of your current marketing materials. After that we'll review your current marketing mix and supply the results of our audit. All it takes is 15 minutes of your time, at no cost to you.
Let us help you boost your brand and increase your sales. We hope to work with you soon.