Strategic Factory Celebrates Entrepreneurism and Rock Star Clients at 2nd Annual Open House
When your fans demand an encore, you better deliver. On Thursday, September 14, Strategic Factory teamed up with Startup Maryland and partnering vendors - ranging from Lindenmeyr Munroe to BIC - to put on a show for up-and-coming entrepreneurs and hundreds of Rock Star clients.
Our second annual Open House was a smashing success, attracting nearly 300 guests for networking, a tour of our facility, tasty food and drinks and a live band.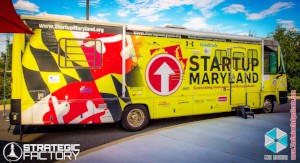 StartupMD
The event began at 3:30 p.m., as Strategic Factory hosted Startup Maryland's Pitch Across Maryland Competition. Keith Miller, CEO of Strategic Factory, Will Anderson, Director of Baltimore County Workforce and Economic Development, Keith Scott, President and CEO of Baltimore County Chamber of Commerce, and Mike Binko, founder and CEO of Startup Maryland, welcomed the crowd and gave a brief explanation of the program.
Entrepreneurs from across the state met, mingled and pitched their innovative plans in hopes of financial backing. In late November, the pitch videos will be rendered, edited and posted online for the Pitch Across Maryland competition(s). Vendors were on hand in strategically placed booths throughout the parking lot for guests and startup companies to get a feel for what they may need or want for their business.
As Startup Maryland's event winded down, Strategic Factory's celebration escalated. In true Rock Star fashion, guests were shuttled to the building via golf cart to a red-carpet entrance. Upon arrival, guests were given their personal name badges, tour passes and tickets for food and drink.
Our guests could then tour the building at their leisure, stopping at various checkpoints to learn about products and services that Strategic Factory offers. Along the way, life-size coroplast cutouts of musical icons – including Elvis, Prince, Madonna and the Beatles – were available to pose with and post to social media using the hashtag #SFRockStar2017.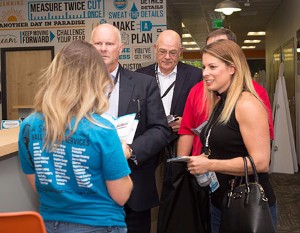 Open House Tour
We stationed industry experts at predetermined checkpoints; some included interactive activities, such as temporary tattoos at the Bindery department stop and Rock Star plaques produced on our Esko cutter at the Large Format stop. We distributed PhotoSquares - printed on our flatbed - featuring famous Rock Star quotes to all in attendance. Guests were also encouraged to get their tour pass stamped at various checkpoints to receive a free Rock Star T-shirt at the end of the tour.  
Once outside, guests were free to roam the grounds. The band was set up under a 60' x 60' tent, along with tables and chairs to enjoy the music while eating, drinking and networking. A fan favorite, The Meatman provided pit beef, turkey and ham with all the fixings, along with baked beans and coleslaw.  Miller beer and a variety of wines from Boordy Vineyards were served (plenty of soda and water were on hand as well). A rep for New Liberty Distillery served samples of three distinct blends of whiskey as well as handmade Old Fashioned cocktails. Three delicious flavors of Itaberco gelato were available for dessert. It's safe to say no one left with an empty stomach.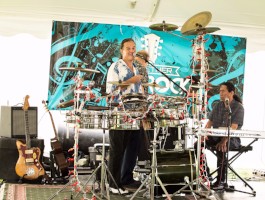 Mambo Combo
Guests were also able to browse the vendors' booths, which stayed up until the event ended at 8:30 p.m. Remaining guests were driven back to their vehicles (although some people preferred to walk off the calories!).
For the second consecutive year, Strategic Factory put on one heck of a show for its Rock Star clients. Additionally, local entrepreneurs were recognized thanks to cohost Startup Maryland. The months of planning paid off (and Mother Nature cooperated with a beautiful day).
We'd like to thank our esteemed vendors and team members who helped make the day one to remember, and our loyal clients who came to celebrate the day with us.
If you missed out on the festivities, or if you attended and want to relive the experience, check out our Facebook album. Be sure to stay tuned to our social channels for information on our next Open House…we promise it will be epic!