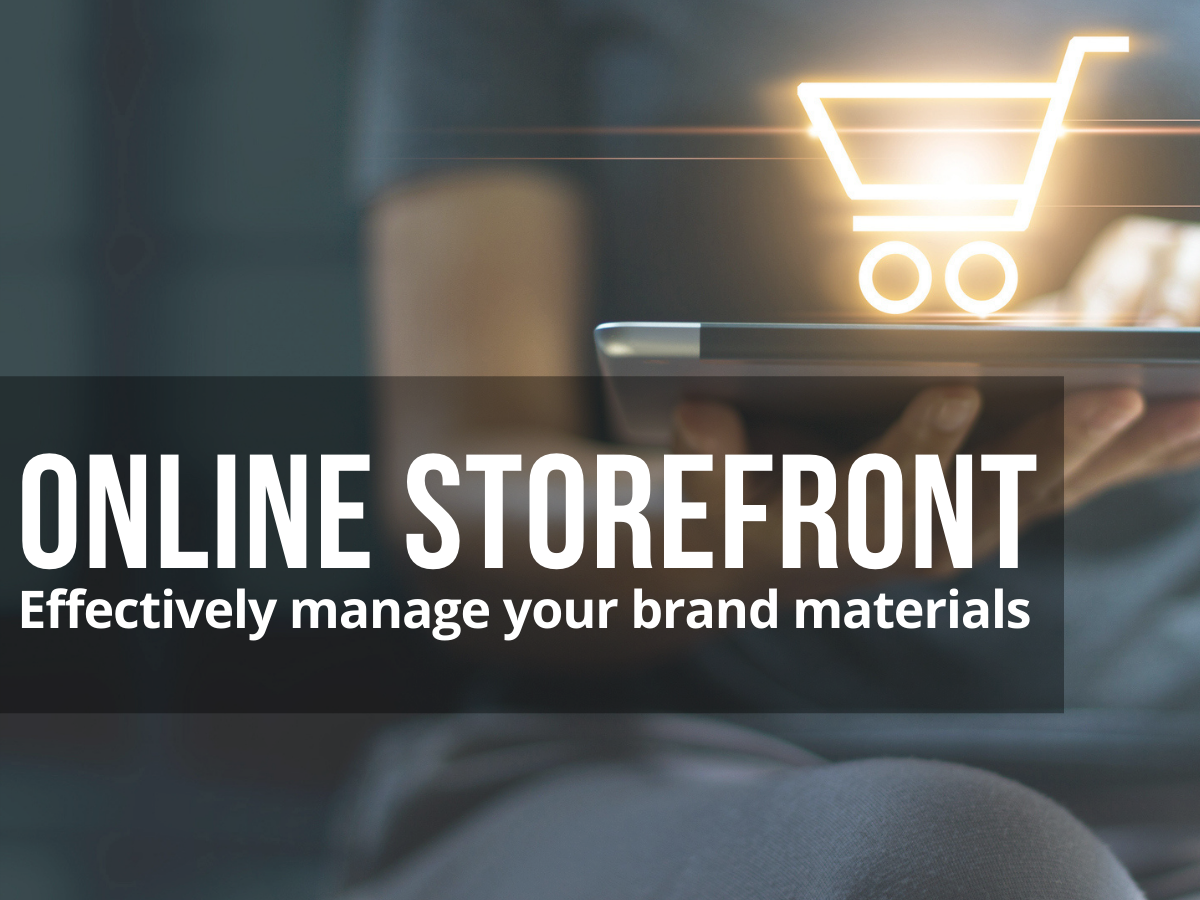 What are online storefronts? They aren't anything new—Amazon is a mega-online storefront that provides us with goods we didn't even know we needed. Consider how these digital marketplaces could work for you, from an internal, product-management perspective. You can order the custom company products you need for your team from your own inventory as well as reorder products before they run out since you know how much of a given product you have left at any given time.
Strategic Factory creates and manages these secure and customizable online storefronts as a solution for efficient brand management and inventory control. The storefront is accessible online 24/7; all you need is an Internet connection and login information. We also ensure the online storefronts we create are password protected. Not only does this keep your storefront secure from outsiders, but it allows you to determine who has access on your team, giving you operational control as to who manages your company's ordering. The best part is, you have a system that keeps track of your inventory, so you no longer have to do without.
What items are available through an online storefront?
There are three primary types of items that can be offered through an online storefront:
Static Printed: These are items that don't change. They tend to be great to order in bulk to take advantage of cost savings and keep in inventory for quick and easy fulfillment (offered by Strategic Factory). Examples include letterhead and envelopes, and signage.
 
Variable Printed: These are items that incorporate variable data, which means they can be personalized. These items tend to be ordered on an as-needed basis. So, while you might not keep them in inventory, all of your project details and proof approvals are kept in the online storefront to make re-ordering quick and easy. While the most common example is company business cards, others include signage and products that can be laser-etched or engraved.
 
Promotional Items: These include clothing and just about any branded product you can dream up. These make up the bulk of many online storefronts; there are even customers that use their storefronts just for their team to order these items. These are other items that would benefit from bulk ordering as well as inventory and fulfillment. Examples include apparel, drinkware, and pens.
How can you benefit from creating an online storefront?
There are many benefits to using an online storefront, the most immediate include:
The ordering process is sped up dramatically. You no longer have to wait months for re-orders of your products.
 
Multiple employees can place orders anytime, ensuring your team always has what they need. It also allows you to better manage your ordering costs because you can decide who has access.
 
You have instant access to view and approve proofs online, which is one of the most time-consuming parts of the approval process. Anyone can review these proofs and submit approval at any time to keep the process going.
 
Inventory levels can be viewed 24/7. You always know what you have on-hand and know ahead of time when to place an order or re-order; you no longer have to worry about running out of materials.
 
You can customize payment, whether by credit card or invoicing, making payment setup easy and in-line with your internal billing process.
There are additional features that can further enhance your online storefront, including budget management and control, a unique URL with custom brand styling of your storefront, and group-specific item catalogs for different departments. Our team can help you create an online storefront that fits your needs and works for you. We can make managing your brand products easier and more efficient.
Want to schedule a demo? Call us at 443.548.3500 or email us at info@strategicfactory.com to get started.