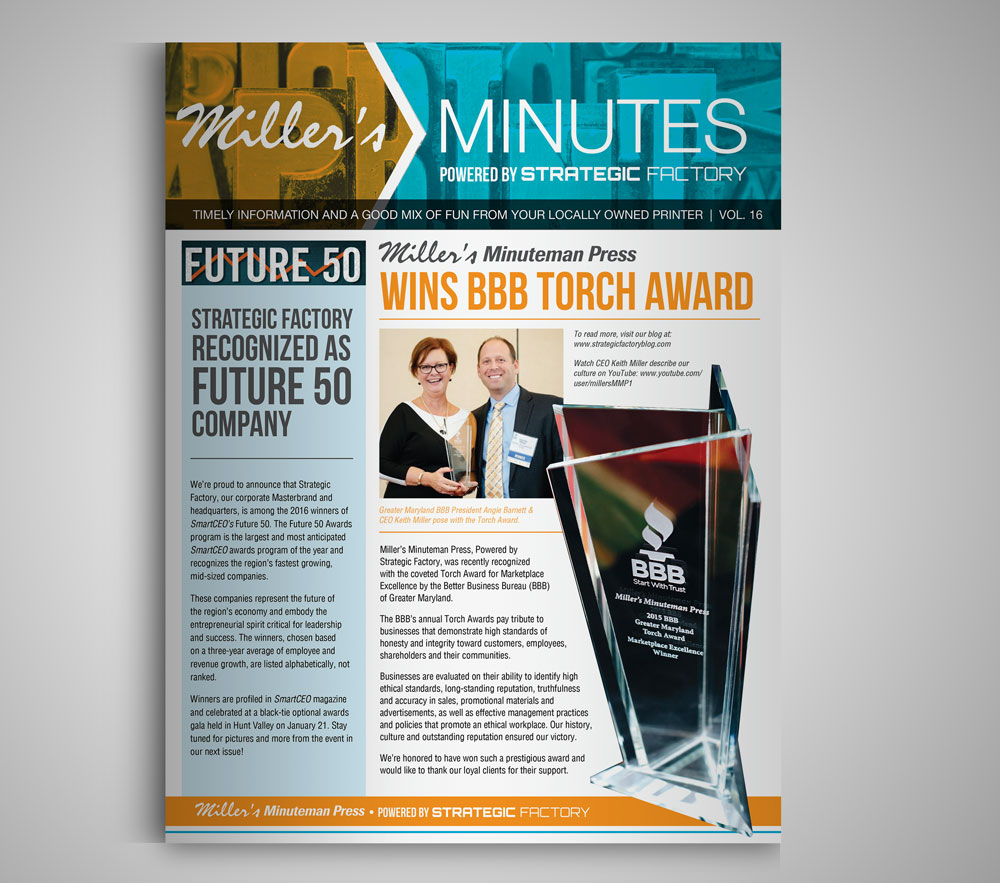 Stay In Touch with Newsletters and Printed Collateral
You've seen it before on this blog…but we'd like to confirm that print is not dead! Far from it!
Paperback books, magazines, direct mail and printed newsletters are just as popular as ever. 
Consider these recent statistics:
46 percent of American internet users only read books in print, compared to just 6 percent who only read e-books.
Studies show that TV received the greatest share of ad spend in 2015, with digital in second place and print in third.
Print represents a 15 percent share of U.S. ad spend by media type in 2015.
56 percent of all consumers trust print marketing more than any other advertising method.
70 percent of Americans say they find direct mail advertising more personal than online ads.
More than 3 out of 4 small businesses use both print marketing and online efforts combined, a strategy that typically offers the best ROI and gets the best response rates.
Newsletters are a great way to not only establish credibility with your customers and prospects, but also promote upcoming specials, feature new products, and educate your audience as industry experts.
Here are a few inspirational newsletter tips to consider:
Think outside the box and consider designing your newsletter as a place mat, oversized or folded postcard, or even a statement stuffer or door hanger.
In addition to mailing your newsletter, consider handing them out at trade shows, sales calls, or providing them at your front desk.
Include articles to inform and educate your readers, using short stories, bulleted information, lists, and other forms of concise information.
Become a source of information on upcoming industry events such as speakers, trade shows, etc.
Consider an "Ask an Expert" section where readers can submit questions and an industry expert can provide an answer in an open forum for all to see.
Create an archive section on your website that makes all previous newsletter issues available to online visitors.
Always include a call to action to request more information, place an order, or stop by to redeem a coupon or learn more about a product offer.
Ask your current subscribers for help sharing your newsletter. Consider offering a referral prize or reward.
Drive traffic to your website or blog. Use a short blurb and encourage readers to view the full article on your blog or website.
Use your newsletter to showcase your expertise and services. Variable data, varnishes, special paper…show your customers your expert services in use.
Mail on a regular schedule. Get in the habit of mailing your newsletter every month or even quarterly, but make a schedule and stick to it.
Match your branding. Be sure to use your logo, typeface and colors to match all your other marketing material. Keep your look consistent!
Be sure to leave room to promote all of your social media channels.
Go digital. Whether it's an e-newsletter, digital edition or a PDF, take your content and send it out via email. Print and digital work best as a team!
Need more inspiration? We can help build your brand, write content, print your newsletters and even mail them out for you! Contact our team of experts today!
Sources: